Treatment of sinusitis and nasal disorders are two of the most common ailments that Dr. Scaccia deals with in his practice.
Chronic sinusitis is a very common disease process that affects up to 40 million people in the United States each year. Dr. Scaccia at Riverside Sinus Surgery & Facial Plastic Surgery practice utilizes the latest technology available for the medical and surgical treatment of patients with acute and chronic sinusitis. In addition each patient is seen and treated by only Dr Scaccia during your visit as he does not utilize physician assistants (PA) or nurse practioners in his office.
Some of the Latest Technology used at Riverside Includes:
Nasal endoscopic culture directed antibiotic therapy
Individualized SinuNEB™ aerosol sinus treatments
Endoscopic septoplasty
Coblation turbinectomy
Balloon Sinuplasty
Computerized Brainlab tm (FESS) Functional Endoscopic Sinus Surgery
Laser beam calibration for customized sinus treatment protocol
Infrared Navigational Guided sinus procedures
Dupixent (Dupilumab) monoclonal antibody biologic therapy
At Riverside Sinus Center, Dr. Scaccia always attempts to utilize the safest and most conservative treatments to remedy his patients with sinus and nasal disorders and septal deviations. However, if medications which can include antibiotics, decongestants, steroids and antihistamines prove to be ineffective, sinus surgery with the use of endoscopes and navigation image-guided systems has proven to be quite effective and safe. Dr. Scaccia who was appointed for the year 2012 as Chief of the Departments of Ear, Nose, Throat and Head and Neck surgery at Meridian Health Riverview Medical Center, Red Bank, New Jersey, is an award winning physician who has been helping patients with their sinus and nasal disorders for over the last 20 years. He is uniquely qualified as he is dual board certified in both otolaryngology and facial plastic surgery. This allows Dr. Scaccia to not only treat patients with chronic sinusitis/nasal obstruction but also with deformities of the external nose. Dr. Scaccia was one of the first in the country to publish a textbook describing a technique to perform simultaneous rhinoplasty and sinus surgery. He has received multiple honors, including the Jack Anderson Award which he won in 1995 after receiving the highest score in the United States on his certifying exam given by the American Board of Facial
Plastic & Reconstructive Surgery. His surgical abilities have been featured in Time, Newsweek, Channel 7 Eyewitness News and most recently on the Anderson Cooper Show. He has been listed as a leading surgeon and voted as a top doctor in New Jersey Savvy Living Magazine™, Top Doctors: New York Metro Area™, The Guide to America's Top Physicians™ , Star Ledger Inside Jersey™ and Castle Connelly's Top Cosmetic Doctor and also Who's Who in America™ and Who's Who in Medicine and Healthcare™.
Dr. Scaccia's office is located in the historic town of Red Bank allowing convenient access from all northern, central and southern New Jersey sites and also from the New York City Metropolitan Area and Philadelphia. Dr. Scaccia has admitting privileges at two local hospitals and performs most of his surgeries when indicated at his own in-office outpatient, ambulatory surgery suite which has been credentialed and certified since its inception in 2002 by the Joint Commission. The Joint Commission which is the Gold Standard used by all hospitals to certify and accredit facilities for maintaining high standards and the highest quality of care has been awarded to Riverside consistently. In the Joint Commission's last review of Riverside, they stated that not only did Riverside pass all the requirements for continued accreditation, it was "found to be in substantial compliance with Medicare conditions." Riverside Surgery Center's staff not only strives for the highest quality of clinical care as required by the Joint Commission and the State but also takes pride in our exceptional record of patient safety and infection control. Again, the Joint Commission is the nation's leading evaluator among hospitals and other health care groups for quality care and patient safety. Every three years, the Center undergoes a thorough on-site evaluation of 150 standards which demonstrates our mission to provide the highest level of care possible. Riverside was also one of the first facilities in Monmouth County to utilize Brain Lab's Image-Guided Navigational Sinus Surgery allowing for state-of-the-art endoscopic sinus surgery procedures.
Dr. Scaccia specializes in not only treating patients with chronic sinusitis who require a procedure for the first time but also specializes in treating patients that require revision of sinus surgery done elsewhere that was not successful. Sinus surgery can be quite effective for those patients that fail aggressive medical therapy but only if it is performed meticulously and by a knowledgeable sinus surgeon. A very high percentage of Dr. Scaccia's sinus surgery patients are treated of their sinus conditions with just one procedure. There is usually no bruising and very little swelling and most postoperative discomfort is mild. In addition, specially constructed tubes are placed within the nasal passages through the packing so the patient is always able to breathe during recovery and immediately upon awakening from surgery. Again, if indicated and the patient requests, Dr. Scaccia is quite qualified at performing simultaneous rhinoplasty so that the patient may enjoy the benefits of not only relief of their sinus and functional nasal disorders but an improvement in the aesthetic appearance of their nose.
What is Balloon Sinus Dilation?
The painful symptoms associated with chronic sinusitis can be overwhelming. If symptoms are difficult to control with medications alone, your primary doctor may refer you to an Ear, Nose and Throat (ENT) specialist, who can determine the best course of treatment, including further medication therapy or surgery to open the sinus passage ways.
Now, there is an additional surgical option for treatment of blocked sinuses called Balloon Sinus Dilation technology. If you have been diagnosed with chronic sinusitis and are not responding well to antibiotics you may be a candidate for surgery, you now have a less invasive option that is clinically proven to be safe, effective and improve the quality of your life.
Balloon Sinus Dilation technology is an endoscopic, catheter-based system for patients suffering from sinusitis.
The FDA-cleared technology uses a small, flexible, sinus balloon catheter to open up blocked sinus passageways, restoring normal sinus drainage. When the sinus balloon is inflated, it gently restructures and widens the walls of the passageway while maintaining the integrity of the sinus lining.
Learn more about the technology that has been used to improve the chronic sinusitis symptoms of thousands of people.
Technology Overview
Balloon Sinus Dilation devices provide an endoscopic, catheter-based system for patients suffering from sinusitis. Recently published data in the leading ENT journal shows that the technology is safe and effective: study participants experienced no adverse events and received significant relief from their symptoms.
Balloon Sinus Dilation technology is used by qualified Ear, Nose, and Throat (ENT) physicians and involves the use of tiny balloons to open blocked sinuses similar to how angioplasty uses balloons to open blocked coronary arteries.
The diagram shows an inflamed left frontal sinus.
In order to improve symptoms of chronic sinusitis, an ENT physician will use Balloon Sinus Dilation devices to open the blockage that is preventing sinus drainage.
The following picture summarizes the steps associated with using the Balloon Sinus Dilation technology: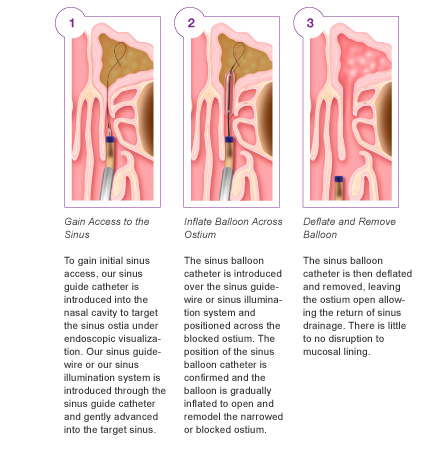 News release and edification for New Jersey Balloon Sinus Dilation NJ
Acclarent, Inc. Granted Key Patent Covering Balloon Sinus Dilation Technologies
MENLO PARK, Calif. , May 4 /PRNewswire/ — Acclarent, Inc., the pioneer of Balloon Sinuplasty™ technologies for use in the treatment of chronic sinusitis, announced today that the U.S. Patent and Trademark Office awarded U.S. Patent Number 7,500,971, entitled "Devices, Systems and Methods for Treating Disorders of the Ear, Nose and Throat," to the company. This patent and Acclarent's earlier 7,462,175 patent are directed to methods for treating a paranasal sinus ostium, such as the maxillary sinus ostium, either through the nostril or other routes. The patented methods include advancing a balloon through a guide and using the balloon to dilate a paranasal sinus ostium. "In addition to securing protection for this early innovation, we believe this key patent underscores Acclarent's strength in intellectual property and deepens the cornerstone of our patent portfolio for Balloon Sinupl CEO, Bill Facteau.y(TM)ast," states Acclarent
With this latest patent, Acclarent now owns or has exclusive rights to nine issued U.S. patents and over 120 pending U.S. and foreign patent applications.
"Acclarent's innovative Balloon Sinuplasty™ technology has been used by physicians throughout the world to improve the quality of life for thousands of patients suffering from chronic rhinosinusitis," said Facteau. "Acclarent is committed to continuing its leadership in innovation. This patent protects an important portion of Acclarent's technology assets and further differentiates Acclarent as a leader in the ENT community. The validation by the USPTO of our invention is a significant step in continuing to provide physicians and patients with access to safe and effective minimally invasive technology."
Sinus Surgery Nasal Sculpturing Nose Surgery
If you've been experiencing difficulty breathing through your nose for a prolonged period of time and medication isn't helping, you may want to consider nasal surgery or endoscopic sinus surgery.Nasal surgery can assist with a variety of issues. It can improve breathing, repair congenital deformities or nasal injuries, and reshape and resize the nose for aesthetic purposes.
Nasal and Sinus Afflictions
The sinuses are hollow chambers between the facial bones located behind the nose.
The sinuses allow for airflow and give your voice its clarity. There are four pairs of sinuses connect to the naval cavity through small openings and allow mucus to drain into the nose. If the drainage path becomes blocked, the sinuses may fill up with mucus and become infected. When other methods cannot clear the blockage, the patient must undergo sinus surgery.
Polyps are another ailment that may necessitate nasal surgery. Polyps are sacs of swollen tissue that can form in the nasal cavity and sinuses. If they grow too large they can easily clog the nasal passages.
There are many symptoms of sinus problems to look for. These include:
Sore throats
Constantly running nose
Feeling of fullness in the ears
Yellow, green or bloody drainage
Frequent headaches
Facial pain
Many patients requesting nasal surgery cite a deviated septum as the cause. The septum is a thin wall in the nose made of cartilage and bone. Genetics or an injury may lead to a deviated – or crooked – septum. A deviated septum may block the nasal passages and can impair breathing.
Doctor Frank Scaccia MD FACS is an award-winning facial plastic surgeon. Dr Scaccia is medical director of the Riverside Facial Plastic Surgery and Sinus Surgery Center in Red Bank, NJ The New Jersey physician holds the rare distinction of being dual-board certified. He is qualified by both the American Board of Facial Plastic and Reconstructive Surgery and the American Board of Otolaryngology as a facial plastic surgeon and otolaryngologist – a physician specializing in ear, nose, throat, head and neck surgery.
Dr. Scaccia performs nasal and sinus surgery using BrainLab's 3D VectorVision Navigation System. VectorVision is an image-guided sinus surgery system that enables the doctor to clearly view of a patient's nasal cavity and passages during surgery. The system is a form of endoscopic sinus surgery.
During endoscopic sinus surgery, an endoscope made up of fiberoptic bundles is inserted into the nasal passages. The endoscope beams light into the nose and sinuses to create an image of the patient's nostrils on a computer monitor in the operating room. Dr. Scaccia can view a three-dimensional image of the patient's nasal cavity without making unnecessary incisions. The view allows for better precision and results in less bleeding, swelling, and bruising than other procedures.
The costs of nasal surgery can only be determined after an in-person consultation. If you qualify for nasal surgery, please contact Riverside Facial Plastic Surgery and Sinus Center to schedule a consultation.
Having Sinus Surgery With BrainLAB's VectorVision Navigation System
VectorVision™ ENT is an image guided surgery system (IGS), which enables the surgeon to view FESS (Functional Endoscopic Sinus Surgery) instruments inside the patient's nose and sinuses during the operation.
The images are viewed on a computer monitor, which displays the patient's CT scan data in a three-dimensional format. The system consists of a powerful computer, infrared cameras and a touch-screen monitor.
How Vectorvision Works
VectorVision utilizes the patient's CT scan data, which is taken before surgery, to provide positional feedback of instrument location in the patient's sinus anatomy.
The patient data is loaded onto a disk and placed into the VectorVision's database. The VectorVision software takes the patient data from the CT scan and gives three different viewpoints for the surgeon on the computer monitor.
Prior to the procedure, an adjustable headband is placed on the patient's head, enabling the surgeon to determine the exact position of the patient's head and sinus anatomy. The cameras see a number of small gray markers called reflective spheres on the headband and the patient's exact position is registered with that of the CT data -already loaded into the system's database. This registration process correlates the patient's images to their actual anatomy.
An instrument adaptor with reflective spheres is attached to each instrument the surgeon wishes to track during surgery. The cameras then relay the exact position of the instruments during the procedure, giving real-time three-dimensional image guidance.
At any point during the procedure the surgeon can determine the precise location of the instrument tip, providing a safer more -efficient outcome.
What are the Advantages of the Vectorvision System to the Patient?
Improved Safety: The precise tracking of instruments allows the surgeon to avoid critical structures adjacent to the sinuses such as the eyes and brain.
Surgical Time: The surgeon is able to perform pre-surgical planning, resulting in decreased surgical time.
Accuracy: Exact tracking of instruments allows the surgeon to navigate exactly to the site of disease thus improving surgical outcomes.
Sinus Surgery Ends
10 Years of Problems
Sinus problems and sleep apnea won't slow down this politician anymore, thanks to Riverview Medical Center's new infrared image-guided computer system.
There are plenty of things that can keep a busy executive and legislator up nights. But Joseph Azzolina's problem wasn't on his mind, but rather in his head – literally. The District 13 Assemblyman and president of Food Circus Supermarkets (Foodtown) had been plagued by chronic sinus problems for over 10 years. Coping with a persistent cough, postnasal drip, facial pressure, and breathing difficulties had become a way of life for him, and previous surgeries to correct the problems were only partially successful. Even aggressive medical therapy did not work. In recent years, Joe also began to experience an increase in snoring at night and fatigue during the day. "I was coughing constantly – all day and night – and I couldn't get rid of it," he says. "It was really keeping me up at night." Eventually, he underwent a sleep study, where a technician monitored him during his sleep to help identify the cause of his symptoms. The results indicated that he had obstructive sleep apnea.
A Common Sleep Disorder
Sleep apnea is the most common sleep disorder, affecting over 12 million Americans, according to the National Institutes of Health.
Many people feel that an inability to get a good night's sleep is a problem they just have to live with, but sleep apnea can cause far more serious health problems, such as high blood pressure and cardiovascular disease, memory problems, weight gain, and headaches. Accurately diagnosing the sleep apnea and undergoing appropriate treatment is extremely important.
Apnea, which is a Greek word meaning "without breath," is a fairly accurate description of the condition because it causes a cessation of breathing for brief periods of time during sleep. Although there are three types of apnea – obstructive, central, and mixed – the most common is obstructive sleep apnea, which occurs when soft tissue at the back of the throat collapses and closes during sleep. The result is a blockage in the airway, which causes interrupted breathing and a poor quality of sleep. Over time, a continuing lack of sleep starts to affect a person's ability to concentrate and stay awake during the day. Sleep apnea has even been linked to motor vehicle and on-the-job accidents.
The sleep study revealed that Joe had a dangerously high apnea index value of 56, meaning that while he slept, he was not breathing or, at most, breathing very shallowly, for at least 10 seconds, 56 times per hour. Frank Scaccia, M.D., an otolaryngologist (ear, nose, and throat specialist) affiliated with Riverview Medical Center, evaluated Joe and ordered a CT scan to determine the severity of Joe's sinus condition. The scan confirmed that Joe also had persistent and significant disease with polyps and infection involving almost all of his major sinuses.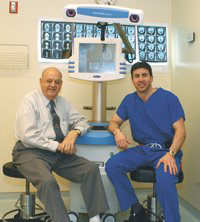 Assemblyman Joseph Azzolina of Middletown (here with Frank Scaccia, M.D., at Dr. Scaccia's surgical suite) is sleeping better and breathing easier following sinus surgery.
New Technology, Greater Accuracy
"Unfortunately, whenever there is scar tissue the risks of surgery become higher and the outcome becomes more unpredictable," says Dr. Scaccia. "However, using Riverview's new infrared image-guided computer system as a complement to our endoscopic approach, I was able to safely and effectively navigate through Joe's sinuses and thoroughly clean out the disease."
The entire sinus operation was done through Joe's nose with no external incisions or post-operative swelling. In addition, specially designed straws were placed through the nose packing so that Joe could breathe through his nose right after surgery, even while the packing was in. In order to treat his snoring and sleep apnea, Dr. Scaccia also simultaneously performed an uvulopalatopharyngoplasty (UPPP), removing some of the excessive tissue in the back of Joe's throat.
"What was great was that both the sinus problem and coughing were fixed during one successful surgery," says Joe. "Dr. Scaccia and his surgical team made sure it was done right the first time, so I didn't have to come back. And I can't say enough about how wonderful the nurses were."
After two days, the packing and straws were removed from Joe's nose, and he was feeling much better. So much better, in fact, that he was immediately able to resume his legislative duties and made an appearance at the annual Middletown Firemen's Picnic.
Now Sleeping Soundly
Six weeks later, Joe was almost totally healed and noted significant improvement in all of his previous symptoms, which included nasal congestion, daytime fatigue, coughing, snoring, and post-nasal drip.
"Now I fall to sleep right away, and even if I have to get up for some reason, I can go back to sleep right away and sleep soundly," adds Joe. "I'm very satisfied."
To find an ear, nose, and throat specialist, call Meridian Physician Referral at 1-800-560-9990 or log onto Meridian's Web site at www.meridianhealth.com.
US NEWS & WORLD REPORT
Feb. of 1998
Relief For Chronic Sinusitis Sufferers
Chronic Sinusitis is one of the most common health ailments in the United States, afflicting almost 40 million people in the country per year. Fortunately, most sinus attacks, which can include headaches, post nasal drip and nasal congestion, will subside with properly administered antibiotics, decongestants and steroid nasal sprays. However, because of anatomical problems that develop within the nose and failure of antibiotics to eradicate certain bacteria, the condition can occasionally be resistant to medical treatment and cause persistent symptoms that last for months or even years.
Much to the relief of these chronic sinus sufferers, a relatively new minimally invasive procedure is now available to potentially cure or at least dramatically improve the effects of this condition for many patients. Functional endoscopic sinus surgery (FESS for short) was introduced into the US in1985, but only recently has gain worldwide acceptance by ear, nose and throat physicians.
Dr Frank Scaccia, a board certified ear, nose and throat specialist in Red Bank, regularly performs this procedure and is a strong advocate of its usefulness on certain patients. ''Although I have been using this technique for the past seven years, it is only in the last two or three years with the advent of new instrumentation of the sinus anatomy and physiology that I can really almost guarantee my patients significant relief of their symptoms."
A review of 186 of Dr Scaccia's patients who underwent sinus surgery during a two-year period revealed a 96 percent success rate. Complications in the study were minimal and easily controlled with no lasting effects. The ages of his patients undergoing FESS ranged from 4 to 75 years.
The operation is usually done entirely through the nose with lasers and a small diameter (4mm) fiber optic scope that amplifies an image on a TV monitor. ''Specially designed sinus instruments are introduced into the sinus cavity to remove infected tissues and open areas that have become blocked. Most patients go home the same day with usually no swelling and minimal packing," explains Dr Scaccia who also reports that plans are underway to incorporate computer-guided imaging technology with FESS to further enhance results.
Because of his experience in this field, Dr Scaccia has been recently asked to report in his findings and techniques. He is publishing a book chapter on sinus and nasal surgery in a medical text to be published by WB Saunders in Philadelphia next year.
Despite excellent results, Dr Scaccia is quick to point out that the surgical procedure is not for everyone who suffers sinus problems. ''An aggressive medical regimen with strong antibiotics is always a good first option," he says.
In addition, Dr Scaccia is also certified by the American Board of Facial Plastic and Reconstructive Surgery and will often perform cosmetic surgery on the outer nose simultaneously with sinus surgery if the patient desires. Interestingly enough, the same scopes used for sinus surgery can also be used to help visualize and smooth the outer contour of the nose.
Facial Plastic Surgeon Specializes in Achieving Natural-Looking Results
''Patients should never look as if they have had plastic surgery. The results should be natural-looking. A careful understanding of the function of the underlying structures must also be taken into account," explains Dr Scaccia whose medical practice concentrates heavily on the face and neck. In 1995, Dr Scaccia was honored by the American Board of Facial Plastic and Reconstructive Surgery after achieving the highest grade in the US on his board certifying exam. He hopes to use his knowledge to help further expand this exciting field.
Surgery Technology
More than a Case of the Sniffles
New technology on sinus at Meridian helps save a man with an unusual problem that was incorrectly diagnosed for years.
For almost three years, 38-year-old Jeffrey Robertson of Middletown had experienced an unusually persistent postnasal drip, a perpetually runny nose and headaches. He never went anywhere without a box of tissues; the problem was beginning to affect his life. A variety of physicians had diagnosed Jeffrey's problem as everything from stress, to an infection, to a need for eyeglasses.
In November 1998, Jeffrey sought the medical expertise of Frank J Scaccia MD, a Riverview Medical Center ear, nose and throat specialist with a practice in Red Bank. After performing a nasal endoscopic exam, Dr Scaccia began to suspect that Jeffrey's problem was more than an allergy or upper respiratory infection. In fact, he thought it may be a much more serious medical condition a cerebral fluid (CFS) leak.
A CT scan of Jeffrey's sinuses and brain verified Dr Scaccia's suspicions and further indicated that a large mass was either eroding into the sinuses from the brain or from the sinuses into the brain.
This was a very unusual presentation for a CFs leak since there was no proceeding event of trauma or surgery that would cause this, says Dr Scaccia. ''Jeffrey was extremely lucky not to have developed neurological complications such as meningitis or a brain abscess considering the length of time this had been occurring."
Riverview neurosurgeon Bruce Rosenblum MD, examined Jeffrey and his test results. Both physicians agreed that immediate surgery was necessary. Four days before Thanksgiving, Jeffrey was admitted to Riverview Medical Center for surgery.
High-Tech Surgery Close to Home
''It was important for me to be at Riverview because it was close to home and my then 10-year-old daughter could visit everyday which she did," explains Jeffrey. ''Although I was confident in my physicians, we really didn't know how the surgery would turn out and I wanted to be able to see her as often as possible. That was important to both of us."
During the first part of the surgical procedure, called a bifrontal craniotomy, the herniated brain tissue was identified. This condition occurs when the brain tissues pushes into the sinuses and nose. Dr Rosenblum, with assistance of Dr Scaccia, separated a portion of the tissue that had decompressed into the sinus/nasal passages and restored the affected area with a section of the Jeffrey's own leg muscle. The second part of the surgery required Dr Scaccia to perform a septoplasty and endoscopic sinus surgery to remove the separated brain tissue from the nasal/sinus cavity.
One day after surgery Jeffrey was up and walking. Within just a few days he left Riverview Medical Center without complications and or neurological consequences. Jeffrey says he feels like a new man. He has had no recurrence of the condition his breathing is better, his headaches are gone and he is back at work.
Breathing Easy Again
More than a year after a traumatic animal bite, this Forked River woman found the physician she needed to breathe again and face the world.
Last March, Diane Ferrante of Forked River, began a typical day at work by visiting a German Shepard that had bitten a neighborhood child the previous week. As an Animal Cruelty Investigator for Berkley Township, Diane is used to dealing with vicious animals on a regular basis.
"When a dog bites a child, it has to be quarantined for 10 days to be sure it isn't rabid," says Diane. "If it is, the animal will die within that time." When she arrived, she knew the dog wasn't rabid because it was still alive. What she didn't know was that this dog wasn't happy about being cooped up for 10 days. When Diane entered the room, the 125-pound dog lunged for her and clamped down on her face with its powerful jaws."It felt like I got punched in the face," recalls Diane. Her fellow workers quickly rescued her from the vicious dog, but the damage was already done. Diane had suffered severe injuries to her nose and face. She was rushed to the emergency room where she received 60 stitches."My face was swollen and I had two black eyes," Diane says. "And my breathing … well, I just couldn't breathe! I knew I needed more help."The Search Was On
Diane began her search for a specialist who could help correct her breathing problems. "I had corrective surgery, but it didn't really correct anything." So Diane took up her search again.About a year after the attack, Diane sought a recommendation from the Board of Plastic Surgeons through e-mail correspondence. Little did she know she had found the doctor who would make everything right again — Frank Scaccia, M.D. , a board certified facial plastic surgeon and ear, nose, and throat specialist affiliated with Riverview Medical Center.
Diane Ferrante of Forked River is no stranger to animals. But when one turned on her she turned to Dr. Frank Scaccia for help.
"When she first consulted with me, her nose was severely disfigured," says Dr. Scaccia. "It was twisted to one side, there was scar tissue and cartilage deformity on top of her nose and under the tip, and her nasal passages were obstructed."
After examining her treatment options, Dr. Scaccia decided to utilize an "open" rhinoplasty approach, which allowed him to directly see all of the damaged structures that needed to be fixed. The procedure was done at Dr. Scaccia's office in Red Bank. "I removed the deformed cartilage and tissues and replaced them with grafts taken from inside her ear," says Dr. Scaccia. "This allowed me to fashion a more natural and anatomically correct nose for Diane."
"Now I Look and Feel Great"
One week after her operation, the cast supporting her nose was removed and Diane saw her new nose for the first time.
She took a deep breath and exhaled through her nose with no discomfort. Her nasal passages were clear.
"I'm sleeping normally again. I'm breathing normally again. I look and feel great," says Diane. "The best part I don't look like I've had surgery on my face. Dr. Scaccia is wonderful!"
Simultaneous Rhinoplasty and Functional Endoscopic Sinus Surgery. Frank Scaccia, MD, David Stepnick, MD, Anthony Maniglia, MD
Since its introduction in the United States by Kennedy in 1985, functional endoscopic sinus surgery (FESS) has gained widespread acceptances and popularity and has achieved success in treating inflammatory sinus disease.1Although complications have been reported, the procedure, when performed properly in trained hands, is usually not only efficacious but also safe.2-5 Because FESS is an endonasal approach, it avoids external incisions and possible cosmetic problems. Because chronic sinusitis is a very common health problem affecting up to 40 million people each year in the United States, the demands for this surgery will probably continue to grow.
Rhinoplasty is another surgical procedure that has enjoyed increased public interest as members of our society become more conscious of their personal health, their appearance, and the ability to make changes therein. One survey indicated that up to 40% of all adults in United States are not happy with the external shape of their nose. Like sinus surgery, rhinoplasty is very safe, and its results are satisfying to surgeon and patients alike.
Combining septoplasty or turbinate reduction with rhinoplasty has been done for many years and seems to be a logical outcome of procedures performed on a defined anatomic subsite that can achieve cosmetic enhancement while simultaneously improving the nasal airway. With the advent of endonasal sinus surgery, rhinoplasty candidates who also suffer from chronic nasal and/or sinus ailment such as sinusitis, sinus headache, post nasal drip and congestion can have these conditions addressed during the same operation. Similarly, patents who are candidates for FESS often desire cosmetic improvement of the external nose and are willing to undergo the cosmetic portion of the procedure during the same operation, whereas they may be reluctant to undergo for surgery for cosmetic reasons only. The advantages of concurrent surgery are multiple and include the need for only one general anesthetic, less total time needed for recovery (and thereby a shorter absence from work or school), and overall lower medical costs than if the two procedures were performed separately.
This chapter discusses the work-up and preparations needed to perform combined rhinoplasty and sinus surgery procedures, the requirement for a safe surgical approach that will help to ensure a success outcome, postoperative care recommendations, a review of the current literature, the advantages and disadvantages of performing these procedures at the same surgical settings, and an evaluation of our personal results.
Preoperative Evaluation
Virtually all patients who are candidates for simultaneous rhinoplasty and FESS seek the advice and treatment of a physician because of their sinus complaints.
As with any presenting problem, the clinician should elicit a through medical history with a particular focus on the sinus complaints as well as any functional and nasal deformities. Aspects that should be addressed include the duration of symptoms, associated allergic symptoms, overuse of topical decongestants, prior nasal surgery, failure to respond to medical therapies in the past, and trauma. In addition, if headaches and facial pressure are described, their exact location and possible association with certain allergic factor and visual disturbances should be ascertained. Migraines or neuralgias should be considered in the differential diagnosis.
Patients who are initially seen by the physician for a cosmetic consultation also need a complete history and physical examination. Occasionally, chronic nasal or sinus problems are diagnosed that require surgery because medical management has failed. These patients may very well welcome the opportunity to have both of their problems handled during the same surgical procedure.
Anterior rhinoplasty is performed both to and after decongestion of the nose with 1% Neo-Synephrine to obtain a more accurate assessment of the turbinates' role in nasal obstruction. Following this, a topical anesthetic such as 4% lidocaine is sprayed on pledgets placed in the nasal cavity, so that a small fiberoptic nasal endoscope can be passed painlessly, allowing a more thorough examination of the internal nose. Many surgeons connect the fiberoptic endoscope to a camera or monitor system so that both the patient and possibly the family members can visualize the nasal anatomy during the examination. In addition, preoperative nasal cavity pictures can be taken with this system, allowing documentation in the chart and better communication with the referring physician. Using the fiberoptic scopes, posterior septal spurs and deviations, inferior turbinate pathologies, purulent secretions, polypoid or polyp formation, adenoid hypertrophy, and obstruction of the osteomeatal outflow tract can be identified.
Once the endonasal examination is completed, attention can be directed to the aesthetic assessment of the nose. This is done systematically beginning at the nasofrontal angel and ending at the nasolabial angle. Note is also made of the overall profile, including such elements as the position of the forehead and chin. Spreader grafts for a narrowed nasal valve and/or a strut for a poorly supported tip are at times deemed functionally necessary based on the examination, and their outward effect on the appearance of the nose should be discussed. In addition, the need for an external transcolumeller incision should be discussed with the patient if its need is anticipated. Finally, standard multiple-view photographs of the patient are taken for both medical and legal purposes and enlargement. Some surgeons use computer imaging system to help explain to their patient how the proposed surgery will affect their appearance. In our experience however, this often results in unrealistic patient expectations, which may lead to possible dissatisfaction. For enlargements, we use 6 X 9 inch color copies made from our original slides, which can be viewed directly or flipped over and transilluminated on an x-ray view box. This allows the surgeon to trace the preoperative patient profile with a pencil and then to draw the anticipated profile on the contralateral view to show the patient in a very basic and understandable way what the likely postoperative result will be.
After a thorough history and physical examination have been completed, there are still a few more important steps that must be taken before a final decision is made about the need for surgery. Sinus surgery, except in emergency situations, should almost never be offered to the patient unless aggressive medical treatment has been attempted in the past and has failed. Such medical therapy may include long -term antibiotic directed at the most likely sinusitis causing pathogens, oral decongestants, topical steroid preparations, and allergic desensitization therapy, if indicated. If these approaches have failed and rhinoscopic examination demonstrates an obvious anatomic derangement or pathology that could account for the patient's symptoms, a complete coronal CT scan without contrast of the paranasal sinuses is ordered. The completed CT scan is reviewed with the patient, noting any functional deformity or disease that may explain the condition and may be amenable to surgical management.
Surgical Technique
Once the need for surgery has been established, certain preoperative steps should be followed.
Obviously, the possible risks and benefits of both of the endoscopic sinus surgery and the rhinoplasty portion of the procedure must be discussed. A detailed explanation of these important issues may be supplemented by other educational materials such as a detailed handout, booklet, or videotape. The patient is informed that the functional (sinus) part of the operation will be performed first and, if for any reason an intraoperative problem occurs that might interfere with further surgery, the cosmetic portion will be abandoned or possibly performed at a later date. He or she is also informed that all aspirin containing products, nonsteroidal anti-inflammatory agents, and vitamin E must be stopped at least 2 weeks prior to the date of surgery because excessive intraoperative bleeding is often a cause of lack of completion of the sinus procedure as well as potential morbidity. Some physicians routinely use perioperative corticosteroid and antibiotic therapy in all patients unless these are contraindicated. A typical regimen consists of a 6 day course of Steroids and antibiotics begun 1 week preoperatively and extended up to 3 more weeks postoperatively.
At the time of surgery, intravenous antibiotics and steroids may be initiated on call to operating room. Although deep sedation may be used, general anesthesia is preferred for these combined cases. Hypotensive general anesthesia (systolic 80 to 90 mmHg) may be used to minimize bleeding. A moist throat pack is placed in the oropharynx to collect any bloody runoff and to avoid swallowing of blood during anesthesia, which may cause discomfort and vomiting postoperatively. All CT films and preoperative pictures are displayed in an easily accessible area of the operating room suite. Cocainized 3-inch Cottonoid pledgets are placed in the right and left nasal cavities prior to the skin preparation to maximize internal nasal vasoconstriction. Sinus surgery and septoplasty, if needed, are always addressed first, since bleeding and swelling from the rhinoplasty would make endoscopic visualization difficult. All resected septal cartilage, bone, and turbinate tissue are preserved in saline solution until the completion of the procedure so that grafts may be readily available if they are needed later.
The sinus surgery is performed with both the 4.0 -mm, 0- degree and 25-degree wide-angle rigid endoscope utilizing a video monitor to minimize surgeon discomfort resulting from bending over during the procedure. This setup is helpful in a teaching setting. Well-placed injections of 1% lidocaine with 1:100,000 epinephrine at the uncinate process and middle turbinate edge are critical for achieving operative hemostasis. In addition, frequent blotting with topical 1:1000 adrenaline in the ethmoid cavity also minimizes oozing. The basic endoscopic technique utilized by the authors is that described by Messerklinger and others, which has been presented extensively elsewhere.8 Complete resection of the uncinate process and associated diseased agger nasi cells is imperative to maximize the chances of success and deserves special note.
Often septoplasty must be performed prior to enthmoidectomy in patients with severe deflection so that comfortable access and visualization can be obtained during the surgical procedure. Rarely, partial resection of the septum is necessary in the area of sinus obstruction, and this can be accomplished via an incision made posteriorly using the endoscope and sickle knife. When inferior turbinate reduction is performed, either directly by resection or by tissue ablation with KTP laser, cautery, or cryosurgery, it is always performed after the sinus procedure because bleeding and/or swelling can occur, thereby obscuring the field.
A complete anterior and posterior ethmoidectomy is performed in almost all cases except those in which only limited osteomeatal diseases has been identified on CT. Often disease is found in the posterior ethomid and frontal recess region, even if this is not clearly demonstrated on preoperative radiographs. There are several advantages to performing a total ethmoidectomy. These include a more thorough exenteration of diseased sinus tissue, easier inspection and assessment of the cavity during the postoperative period, less bleeding intraoperatively and postoperatively when all diseased sinus tissues have been removed, and easier placement of postoperative splints for middle turbinate stabilization. The added operative time and additional risk in performing a total versus partial ethmoidectomy should be minimal in experienced hands.
One of the most discussed and perhaps controversial issues in FESS is the management of the middle turbinate. Postoperative lateralization of a preserved middle turbinate is often cited as the most frequent cause of postoperative failure. The middle turbinate becomes even more of a concern when concurrent rhinoplasty and lateral osteotomies are included as part of the procedure. A floppy middle turbinate in this situation may be even more prone to lateralize and obstruct a newly created osteomeatal outflow tract.
Earlier attempts in our series to prevent this complication by partially resecting the middle turbinate (when combining rhinoplasty and sinus procedures) were successful but appeared to cause a prolonged period of healing of the ethmoid cavity. Edema and granulation tissue were noted to persist up to 3 months postoperatively in some patients. More recently, every effort has been made to preserve the middle turbinate at least partially utilizing the Boomerang middle turbinate glove (Xomed Surgical Products, Jacksonville, FL) to prevent lateralization (Fig. 24-1). Earlier use of an expandable Merocel sponge (Xomed Surgical Products, Jacksonville, FL) for this purposes has been abandoned because it resulted in increased tissue reaction. In our hands, use of the middle turbinate glove appears to be associated with a significant decrease in postoperative edema with almost complete healing of the ethmoid cavity by 3 to 4 weeks. In addition, no middle turbinate lateralization or drift has occurred in these 13 consecutive cases. These splints are now used by us in all cases after lateral resections for concha bullosa. When one or both middle turbinates are resected for hypertrophic enlargement, absorbable gelatin film packs are placed lateral to cut middle turbinates remnants. Both the middle turbinates gloves and absorbable gelatin film, when needed, are placed during the procedure prior to performing rhinoplasty and are left undisturbed for up to 2 weeks postoperatively. Silastic nasal splints, placed bilaterally, minimize the possibility of postoperative scarring.
Rhinoplasty is begun only after endoscopic sinus surgery, septoplasty and/or turbinate reduction have been completed. The cavities are inspected for persistent bleeding, which must be controlled prior to proceeding with cosmetic portion of the operation. Surgicel is helpful in packing the nasal cavity temporarily during the steps of rhinoplasty. Additional surgery at this point, especially nasal osteotomies, should not be attempted if complications such as a cerebrospinal fluid (CSF) leak or orbital penetration with fat herniation occurred during the endoscopic sinus procedure. If FESS is uneventful, rhinoplasty can be initiated using the same technique that would be used if it were performed independently. Either an external or endonasal approach can be used. Nasal osteotomies should not be discouraged, assuming that endoscopic sinus surgery is uncompleted, if these are needed for nasal pyramid straightening or narrowing. No significant complications have been encountered in our hands; similar conclusions have been reached by others.
Tip manipulation and grafting are also carried out as necessary. Alloplastic augmentation, however, may be contraindicated if the concurrent sinus procedures were performed on an acutely infected sinus cavity containing purulent material. If infection is suspected preoperatively, antibiotics should be given to eradicate the acute infection. If it is encountered intraoperatively, one should consider abandoning the cosmetic portion of the procedure, especially if cartilage grafts or alloplastic implants are needed.
Alar base narrowing procedures can also be performed, although increased tenderness in this area during the initial postoperative period may restrict some of the postoperative care necessary for ethomoid cavity debridement. This discomfort usually resolves within the first few weeks and is usually not associated with significant problems. At the completion of the procedure, _ – inch Steri-Strips (Medical – Surgical Division/3M, St. Paul, MN) are applied to the nasal skin, an Aquaplast thermoplastic cast is placed externally, and bacitracin-coated Telfa packing (Kendall Healthcare Products, Mansfield, MA) is used for packing. Eight-centimeter long, 14-F tracheal suction catheters may be placed in each nasal cavity in the packing material to allow some postoperative airflow in an attempt to minimize patient discomfort.
Postoperative Care
Prophylactic antibiotics are prescribed for up to 2 or 3 weeks.
In the first postoperative visit the packing is removed, and this is routinely scheduled on the second or third postoperative day. The patients are instructed to begin instilling Ponaris (Jamol Laboratories, Inc, Emerson, NJ) drops into each nasal cavity three times a day for lubrication. One to two weeks later the middle turbinate gloves or, if still present, the absorbable gelatin packs are removed from the nose, and direct endoscopic visualization and debridement of crust and thickness secretions is instituted on a weekly to biweekly basis until the ethmoid cavities are clean and healed. Daily saline nasal douching utilizing a Water Pik at home is also instituted at this time. Nasal saline pray is also helpful. Occasionally postoperative injections of 40 mg/mL Steroids are injected into persistent maxillary polyps. Steroids spray may be used to minimize scarring, granulation tissue, and polypoid mucosa is essential for a successful outcome and to prevent the need for subsequent revision surgery.
Care of the external nose is identical to that recommended if rhinoplasty were performed without concomitant sinus surgery. The Aquaplast thermoplastic splint is generally removed about 1 week postoperatively and Steri-Strips are replaced as necessary and left in place for up to 3 weeks in all. Steroids 10 mg/mL is infiltrated beneath the skin -soft tissue envelope if persistent supratip edema appears likely to predispose to a pollybeak deformity.
Results
We reviewed 186 consecutive patient who underwent FESS by one of us (FJS) in conjunction with septoplasty, rhinoplasty, and /or turbinate procedures.
Twenty-eight of these patients also underwent cosmetic rhinoplasty. Follow up ranged from 6 months to 2 _ years. Surveys seeking information about perceived postoperative symptomatic results were sent to all 186 patients. Forty-nine patients responded, for an overall response rate of 26 percent. Ninety six percent of all patients who responded were pleased that they had undergone sinus surgery and felt that it made a positive impact on their general health and well-being. A similar satisfaction rate was seen in that cohort of surgery respondents who underwent simultaneous rhinoplasty and sinus surgery. Revision surgery was not required in any of the 28 rhinoplasty patients. No cerebrospinal fluid leak or orbital invasion occurred in patients with planned rhinoplasty procedures, and as a result, no change was necessary in the procedures done on this patient.
One case of hemerrhage significant enough to require return to the operating room occurred. Bleeding was noted in the region of the sphenoplalatine artery, which was probably transected after a very posterior resection of the middle turbinate. This was easily controlled with suction cautery and subsequent packing. We anticipate that this complication will become even less of a problem for us in the future because most middle turbinates are now being preserved. The experience of the other authors (AJM, DWS) in an additional 11 cases revealed no minor or major complications.
Two cases of simultaneous rhinoplasty and sinus surgery are now included to illustrate details of patient management and outcome.
Case Reports
Case 1
A 56 year old female presented with a history of chronic sinusitis and nasal obstruction. Despite prior aggressive medical treatment with long term antibiotics, decongestants, and topical nasal steroid therapy, she continued to complain of frontal headaches, postnasal drip and difficulty in breathing. In addition, she was also unhappy about the appearance of her nose and desired aesthetic improvement. Anterior nasal rhinoplasty demonstrated a deviated nasal septum that partially obstructed the right nasal cavity, enlarged inferior and middle turbinates, and inflammation of the sinus mucosa within the middle meatus bilaterally. External examination of the nose demonstrated a rather naked bony cartilaginous nasal hump and a wide bulbous tip. The patient was also made aware of her moderately recessed shin, which amplified her nasal deformity. A CT scan of the sinuses confirmed the presence of enlarged inferior turbinates and devited septum. In addition, there was also evidence of mild ethmoiditis and bilateral cancha bullosa with narrowing of each of the osteomeatal complexes. Because of these radiographic figures, in conjunction with her history and physical examination and her desire for simultaneous aesthetic improvement, a combined functional endoscopic sinus procedure and aesthetic rhinoplasty was offered and subsequently performed. In addition, an intraoral chin implant was placed to help improve the harmony of the facial profile, KTP laser ablation was performed on the inferior turbinates , and sharp dissection to remove the middle turbinate was used, preserving the medial wall on each side. As depicted in the postoperative pictures, a much more widely patent nasal sinus cavity has been created along with a more pleasing nasal and facial contour (Figs 24-3 to 24-5). At 1.5 years follow up the patient has had total relief from headache and postnasal drip and reports very significant improvement in nasal function. In addition, she was very satisfied with the appearance of her chin and nose.
Case 2
A 47-year-old female with a history of a prior reconstructive rhinoplasty 20 years earlier presented with chronic sinusitis and nasal obstruction. Maximal medical therapy with multiple antibiotics, decongestants, and steroids were tried over several years but produced little relief from headaches and nasal congestion. The patient was also not satisfied with the cosmetic result of her prior rhinoplsty. Intranasal examination demonstrated a deviated nasal septum to the left, swollen inferior turbinates, and a very inflamed sinus mucosa.
External nasal examination demonstrated an irregular nasal dorsum with a mild pollybeak formation. The tip cartilages were also grossly asymmetrical with a right-sided bossa protuberance and bilateral alar pinching that probably resulted from overzealous cartilage resection in the past. The alar pinching was thought to contribute to the nasal obstruction, especially with the deep inspiration. A CT scan demonstrated moderate mucoperiosteal thickening of the ethmoid, maxillary, and frontal sinuses with occlusion of the osteomeatal complexes. (Fig. 24-6). Because of the patient's functional complaints and findings and aesthetic desires, a combined endoscopic sinus surgery procedure and open septorhinoplasty was performed. A complete anterior and posterior ethmoidectomy with maxillary entoscopy was done bilaterally. In addition, bilateral middle turbinectomies were performed to prevent postoperative lateralization. An external rhinoplasty approach was used because this was a revision case involving placement of multiple cartilaginous grafts to the tip from both auricles and the remaining septum.
As can be seen in the postoperative (CT scan, the nasal and sinus cavities are now widely patent and free of sinus pathology (Fig. 24-7). In addition, the irregularities resulting from the prior rhinoplasty has been corrected (Fig. 24-8 and 24-9). The patient at 1-year follow-up has enjoyed almost total relief from her prior sinus symptoms and is very happy with the more natural appearance of her nose.
Discussion
Although it was uncertain who was first to perform simultaneous rhinoplasty and endoscopic sinus surgery, Sherman and Matarasso10 are credited with the first published reports of combining these two procedures. Despite an increasing number of patients who are candidates for simultaneous rhinoplasty and endoscopic sinus surgery, a paucity of information on this topic appears in the literature. In fact, only three subsequent publications have provided information about this concept.9-11-12
Toffel, in the first large series reported in the literature, performed simultaneous rhinoplasty and FESS in 122 of 698 cases (19%).11 He described the technique for each of the two procedures as well as the functional results of the 698 FESS procedures for those patients who were still being followed at 1 and 3 years. Three case reports illustrated the utility of performing these procedures together, but the advantages, disadvantages and techniques were not addressed.
Glicklich and Lauretano considered the problem of the whether it is safe to perform osteotomies, which are often necessary for a rhinoplasty, in the presence of endoscopic ethmoidectomies.9 In a study using 14 fresh-frozen cadaver heads, extensive ethomoidectomies including marsupialization of the frontal recess and agger nasi areas were followed by medical and lateral osteotomies. There were no major comminutions along the osteotomies, nor did the fractures extend into either the orbit or base of the skull, suggesting that combining the procedures does not jeopardize patient safety. Additionally, the enlarged maxillary ostia created by the sinus surgery was not altered by the osteotomies or by dorsal narrowing. In each case a relatively thick buttress of bone composed of the anterior lacrimal crest and the ascending process of the maxilla separated the ethmoid surgical cavity from the line of osteotomy. The author advise caution in patients who have undergone previous lacrimal surgery, in those with preexisting pathways into the orbit or skull base, and in those who are to undergo osteotomies by methods that do not preserve the triangular nasal buttress or double osteotomies. Furthermore, they suggest that CT scans should be considered in patients in whom a rhinoplasty is planned who have undergone previous sinus surgery to verify that an iatrogenic skull base or orbital dehiscence has not been created.
Further details about the safety of combining these two procedures are given in the most recent series published. Rizk and colleagues had only one minor complication, postoperative hemorrhage in a series of 40 patients.12 They like us and other authors, recommend completing the endoscopic sinus surgery before beginning the rhinoplasty.
Summary
In summary, the indications for performing these two procedures during the same surgical sessions are, in essence, the same as for the procedures individually: failure of medical management of sinus disease and the desire of the patient for aesthetic improvement of the nose. Absolute or relative contraindications include a variety of medical conditions(e.g. bleeding disorders (especially when cartilabe grafts or alloplasts are considered necessary for the rhinoplasty), poorly conrolled hypertension, diabetes mellitus, or an asthmatic patient with nasal polyposis), gross infection of the sinuses, and complications encountered during the endoscopic procedure (excessive bleeding, orbital presentation, or CSF leak). In a patient who maybe considered a very poor surgical risk, sinus surgery should be avoided if at all possible. On the other hand, if FESS is absolutely necessary, the procedure can be done with appropriate anesthesia consultation, but the cosmetic portion of the procedure should be avoided. The advantages of performing concurrent surgery are significant and include one anesthetic episode, less total recovery time, and overall lower medical costs than if the two procedures were each performed separately. Disadvantages are minimal and include a potential inability to assess orbital complications from FESS (since osteotomies result in ecchymosis), increased nasal tenderness as a result of the rhinoplasty, possibly compromising the surgeon's ability to perform postoperative cleaning, and more swelling and discomfort than would be likely with either procedure alone. Preoperative and postoperative Steroids helps to reduce edema. Our experience and the literature reports support the premise that FESS combined with cosmetic rhinoplasty can be safe procedure in selected patients and can lead to functional and cosmetic results that are satisfactory to patients and surgeons alike.
Interested in learning more? Please contact the staff at riverside facial plastic surgery and sinus center about scheduling an appointment.